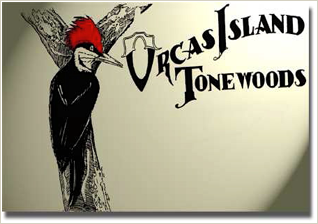 Greetings!
Orcas Island Tonewoods has been milling woods for the construction of musical instruments since 1980.....
We specialize in woods of the Pacific Northwest, but have also milled woods from the Northeastern U.S. and Europe...
Species include Sitka and Engelmann Spruce, Western Red Cedar, Bigleaf Maple, and Western Balsam Poplar, among others...
Drop us a line to check for availability, or check our Specials Page for woods currently available that are a bit unusual or interesting...
Thanks for visiting Orcas Island Tonewoods...
Sincerely,
Bruce Harvie
Orcas Island Tonewoods                                  tonewoods@rockisland.com  

Orcas Island Tonewoods                                                                               679 Roehl's Hill Rd.                                                                                   Olga, Wa. 98279
(360) 376-2747

Update as of 8/1/15:  I'm off-island dealing with a family issue (all's OK) for the next 3-4 weeks or so, and won't be able to fill orders...sorry!
I'll still be taking orders, and can send wood upon my return...
Thanks for the kind words and understanding, all...
Will let you know when I'm back...